GATE is one of the most important exam given by lakhs of engineers and science graduates. Every year gate exam happen in month of feburary, this exam help students get their dream jobs in PSU's or one can opt for higher studies in various Indian IIT's.
Graduate Aptitude Test in Engineering or GATE is an online national level examination conducted for Master of Engineering (ME), Masters in Technology (MTech) and direct PhD admissions to Indian Institutes of Technology (IITs), National Institutes of Technology (NITs), Indian Institutes of Information Technology (IIITs) and other institutes/universities across India. The exam is jointly conducted by IIT Bombay, IIT Delhi, IIT Guwahati, IIT Kanpur, IIT Kharagpur, IIT Madras, IIT Roorkee and Indian Institute for Science, Bangalore (IISC Bangalore), on a rotational basis on behalf of the National Coordination Board (NCB – GATE), Department of Higher Education, Ministry of Human Resource & Development (MHRD), Government of India.
LATEST UPDATE: GATE 2021 QUESTION PAPER AND ANSWER KEYS UPLOADED
GATE 2021 QUESTION PAPERS AND ANSWER KEYS
TIMINGS
DAY
DATE
Forenoon: 9:30 AM to 12:30 PM
Afternoon: 3:00 PM to 6:00 PM
Saturday
Sunday
Saturday
Sunday
6th February 2021
7th February 2021
13th February 2021
14th February 2021
GATE 2020 QUESTION PAPERS AND ANSWER KEYS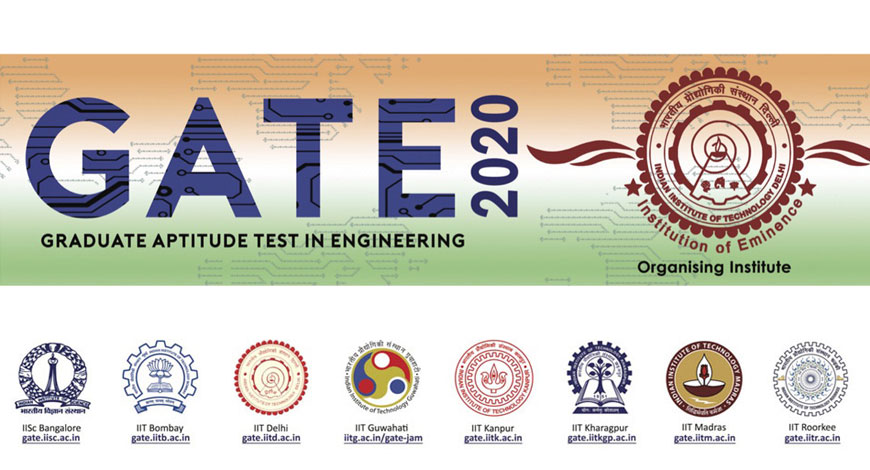 TIMINGS
DAY
DATE
Forenoon: 9:30 AM to 12:30 PM (Tentative)
Afternoon: 2:30 PM to 5:30 PM (Tentative)
Saturday
Sunday
Saturday
Sunday
1st February 2020
2nd February 2020
8th February 2020
9th February 2020
GATE 2019 QUESTION PAPERS AND ANSWER KEYS
TIMINGS
DATE
Morning: 9.00 am to 12.00 noon
Afternoon: 2.00 pm to 5.00 pm
2 February 2019
3 February 2019
9 February 2019
10 February 2019
Let you friends know about this page!